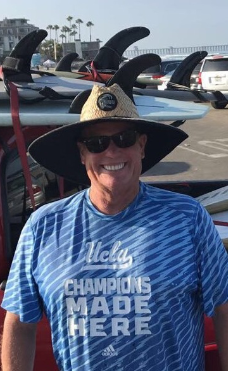 Doug Jones
Owner & Instructor
Nicknames: Dig N Dug, Coach, Pinks, Buttercup, DAD
School: SDSU Grad, BA Recreation Systems MGT, GOAZTECS
Philosophy: "Surf for fun and exercise"
BIO: Dad of 3 awesome daughters who enjoy film, teaching, soccer, and surfing. As a 5th Generation Californian and San Diego native I surf for fun, and teaching you is a blast. I enjoy your smiles while providing you the ultimate surfing experience! Ask me about my waterpark story, or the day I hung up the snow skis. My background includes 17 years as a senior YMCA director. Over 40 years of my life has been spent coaching sports, managing sports leagues, operating Surf camps and Family camping programs. I look forward to meeting you, helping you catch a wave, then its 2 thumbs up and high fives all around.